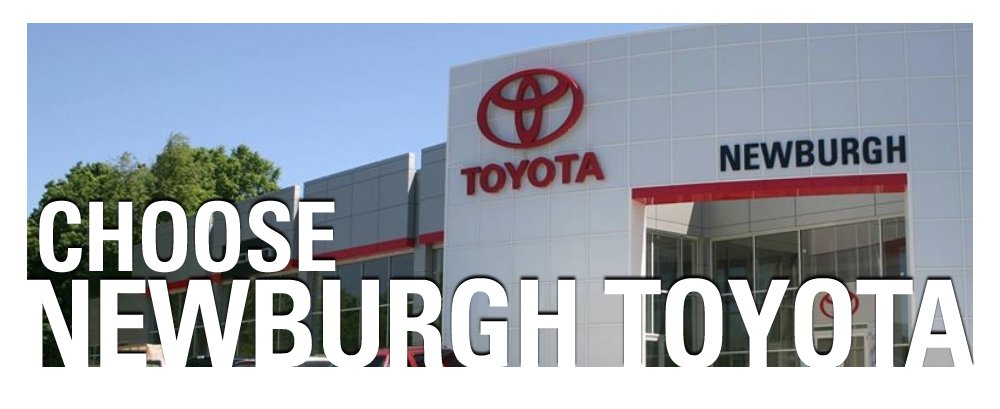 Welcome to our new website!
We have a strong and committed sales staff with many years of experience satisfying our customers' needs. Feel free to browse our inventory online, request more information about vehicles, set up a test drive or inquire about financing!
If you don't see what you are looking for, click on CarFinder, fill out the form, and we will let you know when vehicles arrive that match your search! Or if you would rather discuss your options with our friendly sales staff, click on Directions for interactive driving directions and other contact information. We look forward to serving you!
We know that your time, money, and business are valuable. And with so many places, automotive or otherwise, vying for your business, we think it's important to take a moment to let you know why we are worth considering. When you are shopping for a new or used vehicle or a place to service your vehicle near Newburgh, Poughkeepsie, Kingston, Middletown, or Monticello, NY, Newburgh Toyota should be first on your list. But we shouldn't be first because of our selection or location. We should be first because we believe a good, reliable vehicle can change your life as can a strong, tight-knit community.
Let's first talk about how a vehicle can impact your life. Whether you have a car, truck, or SUV, you know how important it is that you drive a reliable vehicle. You need it to not only get to your job, but you also need it to get your family to appointments, see your friends, get groceries, take vacations, or more seriously, to get to an emergency situation, a hospital, or to a get out of harms way.
You want to be absolutely sure that your vehicle is able to start, stop, break, accelerate, decelerate, warm-up, and cool down at a moments notice. With a Newburgh Toyota vehicle, you'll have these assurances and more. Not only is our state of the art service facility open six days a week we also have 24 service bays, so we can get your car in and out in as little time as possible. Our team of technicians is here to make sure your car, truck or SUV is running as best it can so you won't miss your appointment, meeting, or any of life's special moments. For those times when we need to keep your vehicle for a longer period of time, we offer loaner cars and shuttle services for your convenience. As nice as our facility is, no one wants to be stuck at a dealership all day or have to rely on others for transportation. Finally, whenever you bring your car in for a service or maintenance, you know you'll get your car back cleaner than you left it. That's because we offer a complimentary car wash with every service!
Moving on to how a close community can impact your life, our employees know that car sales people can sometimes get a bad rap. Our staff wants to change that perception. We treat our customers the way we would want to be treated. No one likes to be pressured into something they don't want. So we don't! Our knowledgeable, low-pressure sales staff is here to serve you. We aren't going to try and sell a family of four on a convertible. We take the time to get to know you and your needs and do our best to match you up with a car, truck, or SUV that will fit your lifestyle and budget. We aim to instill trust with our customers and if you trust us we hope that you'll let others know of your experience. And if that experience brings us more business we will reward you through our referral program for friends and family. Remember also that our associates are your neighbors and even though we sell cars from an international manufacturer, our business is deeply rooted in this community. We proudly participate in community events including, but not limited to, blood drives, food drives, NY Air Shows, Pet Adoption Days, and the Wounded Warrior Project. For information on sponsorship, donations, and more community programs we encourage you to visit us at 218 Route 17K in Newburgh, NY 12550.
As you can see, we are committed to making your life easier and our community a better place. Visit us whether you are looking for a new Toyota, a used vehicle, an oil change, great financing rates, or to invite us to assist with your event or fundraiser. Our doors are always open!
Hours
Monday

9:00am-8:00pm

Tuesday

9:00am-8:00pm

Wednesday

9:00am-8:00pm

Thursday

9:00am-8:00pm

Friday

9:00am-6:00pm

Saturday

9:00am-6:00pm

Sunday

11am-5:00pm
See All Department Hours
Dealership Hours
Monday

9:00am-8:00pm

Tuesday

9:00am-8:00pm

Wednesday

9:00am-8:00pm

Thursday

9:00am-8:00pm

Friday

9:00am-6:00pm

Saturday

9:00am-6:00pm

Sunday

11am-5:00pm
Parts Dept. Hours
Monday

7:00am-6:00pm

Tuesday

7:00am-6:00pm

Wednesday

7:00am-6:00pm

Thursday

7:00am-6:00pm

Friday

7:00am-6:00pm

Saturday

7:00am-4:30pm

Sunday

Closed
Service Dept. Hours
Monday

7:00am-6:00pm

Tuesday

7:00am-6:00pm

Wednesday

7:00am-6:00pm

Thursday

7:00am-6:00pm

Friday

7:00am-6:00pm

Saturday

7:00am-4:30pm

Sunday

Closed