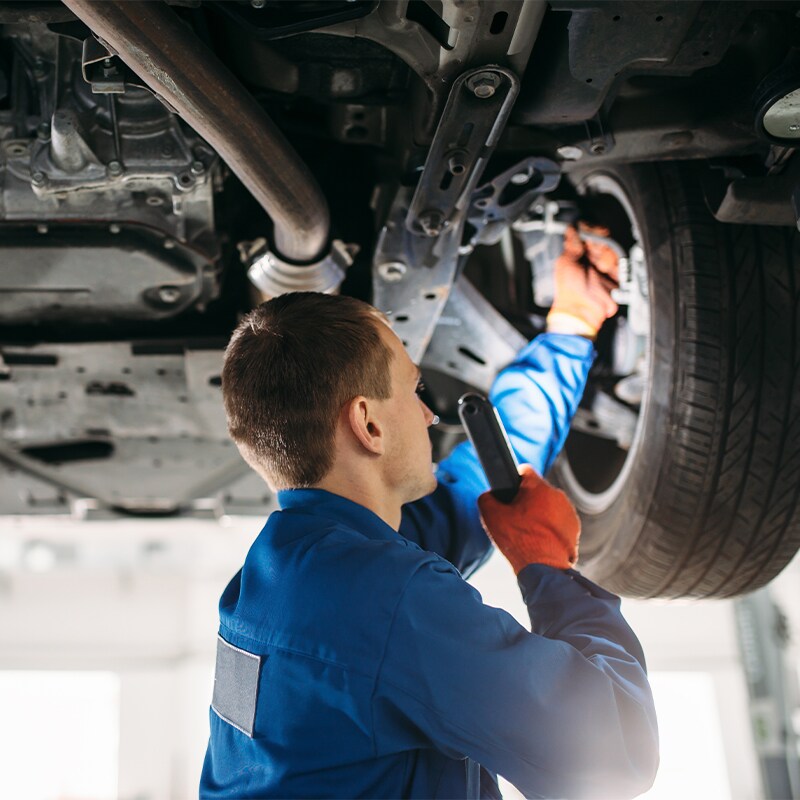 All Your Brake Repair and Inspection Needs at Our Newburgh Service Center
There's no question that brakes are an important part of your vehicle. So it's important to make sure your brakes stay in great shape. At our Newburgh service center serving New Windsor, we can take care of your brake repair needs to keep your car running safely.
You should have your brakes inspected regularly to make sure they're working properly. Additionally, if you notice any of these warning signs, be sure to bring your car in right away to have your brakes looked at:
Your car takes a long time to slow down or stop.
You hear a grinding or squealing noise when you apply the brakes.
The brake pedal vibrates or sinks to the floor.
Your car pulls to one side when braking.
These signs can indicate an issue with your brakes, so be sure to bring in your vehicle for an inspection. You're welcome to bring your car to our service center near Woodbury for your brake inspection and brake repair needs. We have a top-notch service center with a team of skilled technicians who know just how to care for your car.
Our technicians have years of experience working with Toyotas and other vehicles, so we can give your car the specialized care it needs. We also use high-quality auto parts, so you can trust that your vehicle is getting just what it needs. We can inspect your brakes, check brake fluid levels, repair damaged parts or replace parts to get your brakes back into great shape so you can enjoy a safe ride in the Fishkill area and beyond.
If your car is in need of a brake repair, visit our Newburgh service center near Wappingers Falls. We would be happy to inspect, repair or replace your brakes to make sure you can keep enjoying a safe ride.
Hours
Monday

7:00am-6:00pm

Tuesday

7:00am-6:00pm

Wednesday

7:00am-6:00pm

Thursday

7:00am-6:00pm

Friday

7:00am-6:00pm

Saturday

7:00am-4:30pm

Sunday

Closed
See All Department Hours
Dealership Hours
Monday

9:00am-8:00pm

Tuesday

9:00am-8:00pm

Wednesday

9:00am-8:00pm

Thursday

9:00am-8:00pm

Friday

9:00am-6:00pm

Saturday

9:00am-6:00pm

Sunday

11am-5:00pm
Parts Dept. Hours
Monday

7:00am-6:00pm

Tuesday

7:00am-6:00pm

Wednesday

7:00am-6:00pm

Thursday

7:00am-6:00pm

Friday

7:00am-6:00pm

Saturday

7:00am-4:30pm

Sunday

Closed
Service Dept. Hours
Monday

7:00am-6:00pm

Tuesday

7:00am-6:00pm

Wednesday

7:00am-6:00pm

Thursday

7:00am-6:00pm

Friday

7:00am-6:00pm

Saturday

7:00am-4:30pm

Sunday

Closed